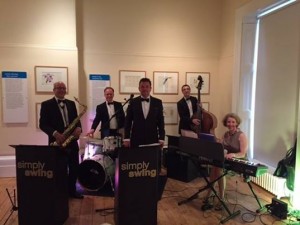 Last Friday was the first time that the band has played at the beautiful Cambridge Cottage at Kew Gardens for the wedding of Albertine and John.  A beautiful summer's day and an amazing setting, Albertine looked absolutely stunning.  With a mixed nationality guest list of Dutch, Canadian, American and English, the band kicked off the evening's entertainment with Albertine & John's chosen first dance – Fly Me To The Moon. It was lovely to see them switch partners half-way through and dance with their parents.
From then on it was straight into the dancing and we hardly saw a space on the dance-floor all evening.
Live Bands and Sound Limiters
Albertine and I had many email discussions before the day about the strict musical requirements that the venue has regarding the volume level.  We were working with a sound limiter all evening as the neighbours are close-by and we managed to keep within the extremely tight sound restrictions with ease.  It can be a daunting task working with a limiter as the sound will cut out if a band plays too loudly and this, in turn, can totally ruin the continuity of the party.  Cambridge Cottage require an external sound engineer to be present at each and every event to oversee the decibel level of the band and we were delighted to be working with Rodney Prout, Managing Director of Prelude Entertainment, as our sound man!
In our half-time break, the Groom's mother came to tell us how delighted she was with the music, reiterating her sentiments on this wonderful video testimonial.
We rounded off the evening as we began, with another classic Frank Sinatra hit – 'My Way' .