What a delightful and very special evening we had last weekend at the beautiful Corinthia Hotel in Whitehall for a fabulous fund raising white-tie gala ball hosted by the Polish Knights of Malta.  Our brief was a Downton Abbey/Viennese Ball with a little James Brown thrown in at the end should the mood take the dancers!  Quite an eclectic mix then, but Simply Swing's 5 piece band had the experience and musicianship to pull this off beautifully.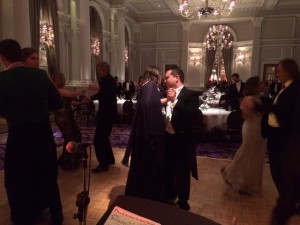 Downton Abbey – 'Fabby Abbey' Music
The Corinthia Hotel's beautiful, grand and ornate ballroom was the perfect setting for a period Downton Abbey Themed Party. The Downton Abbey era falls between 1912 (when the Titanic sank) and 1924, so our repertoire choice was centred largely on Edwardian music hall songs up to, and including, the 1920's flapper era.  We so enjoyed breathing fresh life into old songs to suit the occasion.  It was just a joy to play songs such as "What'll I do", "S'Wonderful",  "If You Were The Only Girl In The World", "Once In A While", "Yes Sir That's My Baby", "Blue Skies", "Charlston",  "Black Bottom" and "Tea for Two".   Announcing dances from a by-gone era that are all but extinct now like the Turkey Trot, the Shag Swing and the Jitterbug was such fun.
Inspired by the past but certainly not locked into it, Simply Swing added a splash of "Knock On Wood",  "Can't Take Eyes off You" and "Son of A Preacher Man" as per our brief to round off the party.
We feel very privileged to have been invited to perform at such a grand event and parties like this really do bring home to us what a dream job we have.