Ballroom and Latin Dance Band Night at Heathrow
Great to open the New Year 2014 at The BA Concorde Club in Heathrow, playing with our flag-ship B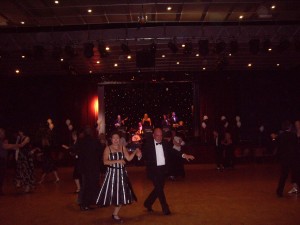 allroom and Latin Dance Band for their New Year's Dance. Tickets were available to the public and priced at £12.50 and we were absolutely delighted that all tickets were sold and we played to a full house. So many different bands work at that venue but it was the first time ever that they have sold out and on a cold January night to boot!
Ballroom and Latin Dance Music Repertoire
Of course we play the usual styles of dance music, Quickstep, Foxtrot, Waltz, Tango, Jive, Samba, Cha Cha, Rhumba, Viennese Waltz and Paso Doble but we also play the popular Sequence Dances; Mayfair Quickstep, Cindy Swing, Balmoral Blues, Rhumba One to name a few.
We were asked to return to the BA Concorde Club and our next strict tempo ballroom dance will be on 11th September 2014 and it's a black-tie ball.